1 tag
Woke Up Today Sore
And I'm pretty damn happy about it.  Nothing too major, but at least I know that my muscles are reacting to the weights, and I will make some progress.  Back to the gym this weekend!
Workout #2 of the Week - DONE!
Did weights today.  I'll probably be sore tomorrow, but that's ok.  Felt good to be back.
recipes.sparkpeople.com →
Burl made this recipe last night after searching some sites for recipes with ingredients we had in the house.  It was really fantastic, and only 7 WW Plus point.
1 tag
Less Than 30 Minutes
Until "Grey's Anatomy"  I need this badly this week!
3 tags
All of a sudden I looked up and I had 84 followers.  I'm not sure that I have 84 real followers, but I'm pretty sure that I have at least 20 real ones that aren't my family.  And for you, I'm writing this post. So, I've been gone for a while.  I'm not sure why.  Well, maybe I do know why, but let's get to that in a minute. So, what's been up? ...
Do you do marathons?
sodamnrelatable: Me: Yes, all the time, which show? Love this!
1 tag
Been watching Lost for about 2 weeks now. Almost at the end of Season 2. It's amazing how lost :) you can get in something like this, or even a really good book. But I should be out getting some exercise.
2 tags
After going back and forth on 50 pointless emails about budgets, I quickly downed three pieces of chocolate. Ok, maybe stress eating is more if a problem for me than I thought!
Joining the New Years revolution !
Posting on Tumblr helps ME. I'm going to remember that. I've missed you all.
Facebook Down? Check this for how to get on. →
asariilaos: Facebook has been encountering some DNS issues this afternoon that are making it unavailable to many users. The social network's Domain Name System servers are not directing folks to its site, causing it to appear as if the network is down completely.
1 tag
]]>feelingoftemptation replied to your post:Facebook I cant see any pictures on facebook right now It won't even load on any of my devices.  It says webpage not found! Truly a sign that they Myans might have been right :) 
1 tag
Facebook
How do you find out if Facebook is down, when your normal way to handle stuff like this is to post on Facebook to find out???  Well, you go on Tumblr of course!
3 tags
Grey's
SPOILERS… ——————— You are all missing some interesting points.  It was 3 months since the plane crash.  But's Mark living will said 30 days after coma…  what happened between the plane crash and day 60?  I asked my daughter this - does Mark really seem like the kind to have a Living Will?  Would Mark have a living will unless there...
shazamapajama: after a very quiet summer, emotional breakdowns are back in full swing. thanks, shonda rhimes. ps you're the devil.
Olympics time, when I go from being averagely...
insertsongreference: It's so dumb. But I can't help it. THIS.IS.ME…
Kristene-Gets-It: Interview tips based on... →
kristenegetsit: The ask I got: Oh my gosh I am so terrible at interviews and so terrified of them. I get so anxious that I can't even talk and when I do I don't think I even make sense! I am student teaching in the fall in a first grade classroom and eventually I will need to begin interviewing. You sound like… Ok, is my daughter not INCREDIBLY AWESOME? :)  This is the kind of person...
3 tags
Getting ready to get my redneck on...
Remember in February when I was so excited that we were working a concession stand at the Daytona 500?  And it rained all day long?  And we never heard a car start…? About two weeks after that, I bought tickets to tomorrows race.  My daughter Kelsey is the bigger race face fan of my two daugthers (Kristene couldn't care less), and we really wanted her to see a race.  So, tomorrow is...
3 tags
Fat Chance: Did anyone else know that they are... →
fat-chance: BECAUSE THEY ARE AND I'M TERRIFIED. It's going to be called Mockingbird Lane. The Munsters (and Gilligan's Island*, I Dream of Jeanie, Bewitched, The Monkees, The Brady Bunch) was my childhood. But, the remake is supposed to have Eddie Izzard as Grandpa… so maybe it can only be but so bad… *Gilligan's Island
OH CRAP!  I just had to get up to go to the bathroom and in the last hour my leg muscles have frozen up.  I'm going to be sore tomorrow!
3 tags
The Circuit 2.0
Worked out (at the gym) for the first time in at least 2 months tonight.  It felt fantastic.  Working out is weird — you don't realize how good it feels until you do it and then its like, "wow, this is great".  You remind yourself to keep remembering this, and hope that you do. I will. We did the Circuit @ Planet Fitness and it was great.  I had to go down on all my...
3 tags
2 tags
Ran Out of Grey's Anatomy...
So we've moved on to "Weeds".  Damn, this so is so fucking funny.
2 tags
Grilled Potatoes →
Made these tonight and they were really great.  I added a little more seasoning (chili pepper, paprika, garlic powder), and I proabably cooked them a tad longer than I should have, but they were still great. Definitely worth trying again.
1 tag
30 Day Chip
No, I haven't given up alcohol. :) Today marks the 1-month mark since my husband quit smoking.  This Is Huge. I've never smoked.  But I've watched my husband struggle with this addiction for almost 30 years.  He has smoked for almost 40 years.  And now he is a non-smoker, and I couldn't be happier. He has quit before.  I can tell you though that this is 1000% completely...
3 tags
Steak...
While cooking dinner tonight (steak and risotto), I really took some time to think about how I used to eat.  It's been a year now since I changed my life, and that's long enough where I don't always think about the changes that I've made. One of the changes is definitely in the amount of beef/chicken/pork that I eat.  A Saturday of old would have meant steak and baked...
Greys Anatomy S:6 E23
"don't alarm the makers of the Tiny Humans, because they will eat you alive."
Trying out new tumblr
So I downloaded the new Tumblr I-phone upgrade yesterday and I thought I would try it out. So far, not too shabby.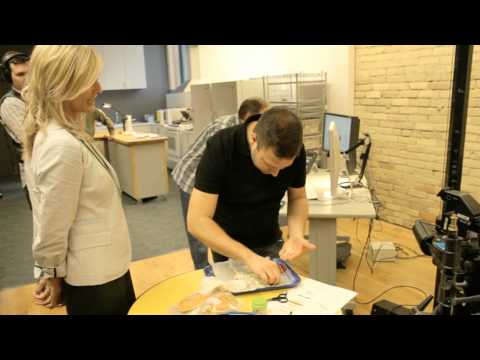 Spectacular Sunday Weigh In
Week #54 Starting Weight:280 Last Week: 227.4 Sunday 6/17/12: 223.8 Change: -3.6 Total Loss to Date: 56.2 LBS :) Life if good. I stayed home Friday, and as a result, I drank a shit load of green tea and water. I think this helped a lot because I was retaining some water. I ate good this week but I didn't work out at the gym and I've GOT to get moving again. Tomorrow begins...